It's no surprise why so many people ask us about Bluehost.
Anytime a hosting company is explicitly recommended by WordPress.org, you can probably assume that it's worth checking out.
Especially when you consider that WordPress powers more than, ohhh half of the websites on the internet…

Visit Bluehost
---
While Bluehost's WordPress endorsement speaks volumes to the popularity of the service, there are those among us who want to know whether or not this popularity is actually deserved.
Is Bluehost simply using the Kardashian Effect (great marketing with almost zero real value) to sell a subpar hosting service?
…Or are they actually one of the top three hosts on the market today?
Well…
You'll just have to keep reading to find out. 
---
What is Bluehost? – A Brief History of Everything
In 1996, during the era of dial up internet (when dinosaurs roamed the lands and you could still find good music on the radio), a small team of savvy developers and techies founded Bluehost in Provo, Utah.
They didn't know it at the time, but within 2 decades, their dinky little startup would grow into one of the largest hosting Behemoths on the planet, employ more than 750 individuals, and be responsible for powering more than 2,000,000 websites worldwide.
Recommended by everyone from WordPress themselves to Pat Flynn of Smart Passive Income to John Lee Dumas of Entrepreneur on Fire (and pretty much every other online entrepreneur out there).
Bluehost has become synonymous with web hosting and has effectively become the world's go-to web hosting service.
…Which has really given the company an unfair advantage.
The thing that really sets Bluehost apart from the other top web hosting companies we've reviewed on the site isn't just it's service (which is about on par with HostGator – check out our Bluehost vs HostGator comparison for more information).
Rather, it's the fact that the company's size and unprecedented growth have allowed them to offer their services at such an incredibly low price.
Let's take a look at some of the plans they offer so that you can see what I mean…
---
Reasons why Bluehost is great:
1. IT'S Dirt Cheap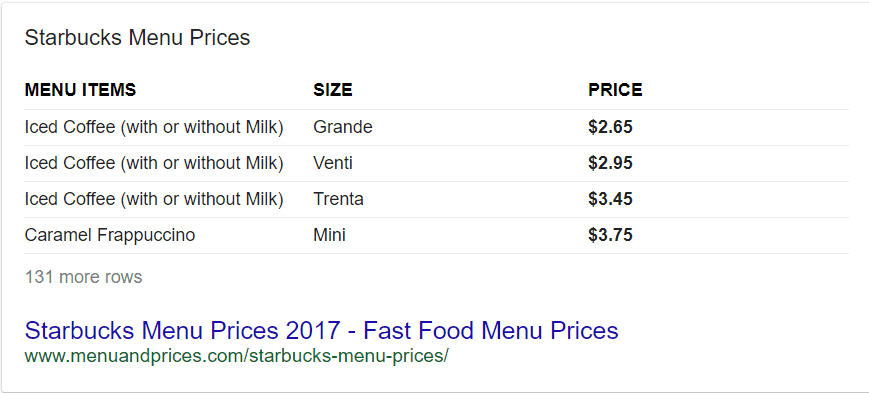 Let's just get this out of the way right now… Bluehost is cheap. Like dirt-freaking-cheap.
With plans starting as low as $2.95/month, Bluehost allows you to host small websites (that get fewer than 20,000 visitors/month) for – quite literally – the same price as a Venti Iced Coffee from Starbucks.
No… Really
2. Plenty of Plans to Choose From
No matter what you or your business need, Bluehost has got you covered. You can choose from shared, VPS, dedicated, cloud servers, and WordPress hosting to meet whatever demands you have to face.
Whether you want to grow the next 8-figure eCommerce store with thousands of products, share your thoughts on gender politics and Jordan Peterson, or run a giant corporate website that generates millions of views a month, Bluehost has at least one plan that will get you exactly what you need.
3. Unlimited BANDWIDTH & 100 Bluehost EMAIL Accounts
Yup. Unlimited bandwidth. No more worrying about your website crashing in the wake of that viral article your recently published. You'll be good to go for pretty much forever.
With regards to email, Bluehost's starter plans include a whopping 100 accounts (which should suffice for everyone save large corporations) and you can upgrade to an unlimited number of accounts with the Plus or Business Pro plan.
In contrast, most other cheap hosts offer somewhere in the range of zero to three free email accounts.
4. Great Uptime and Load Speeds
Although Bluehost isn't necessarily the fastest or most reliable hosting service on the market (though, it depends on who you ask), it's right up there with the top dogs.
And for the price you pay, you'll be hard pressed to find any hosting service that can beat these numbers.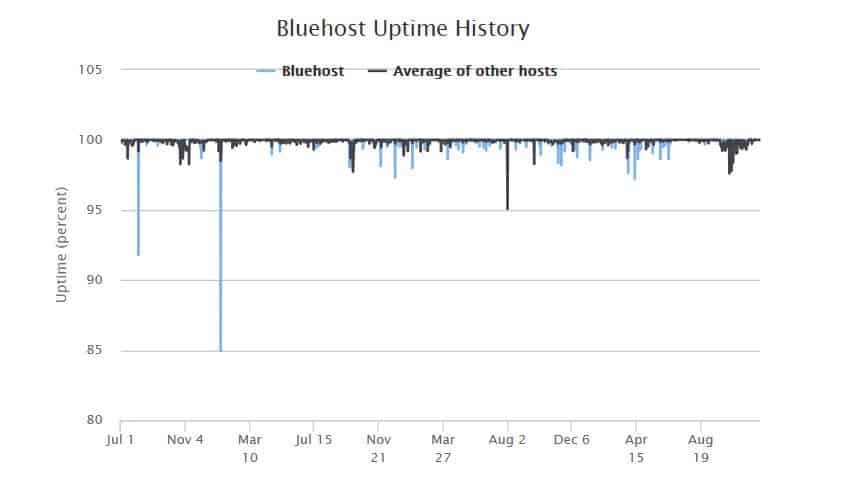 5. Bluehost's Marketing "Bonuses"
Look, 99.99% of the "Free Bonuses" that you get with anything that you purchase on the internet is all but guaranteed to be a marketing gimmick designed to push you over the edge so that you'll buy the main product.
But, I've gotta say, the $200 in free ad credits (for Google, Bing, and Twitter) offered by Bluehost is nothing to scoff at. If you're a savvy marketer, this is enough of a starting budget to make a quick profit and reinvest it back into growing your audience.
6. Great cPanel
According to our team of experienced web hosting know-it-alls, precisely 99.87% of the cPanels implemented by your average hosting company are exactly the same. 🤓
But Bluehost has made a few nifty little tweaks and upgrades to make their version even simpler for the website newbie to use.
And that's the real selling point of Bluehost. They allow complete novices to quickly and effectively build real websites (that can generate real profits) for pennies on the dollar.
Your grandmother could probably use this cPanel…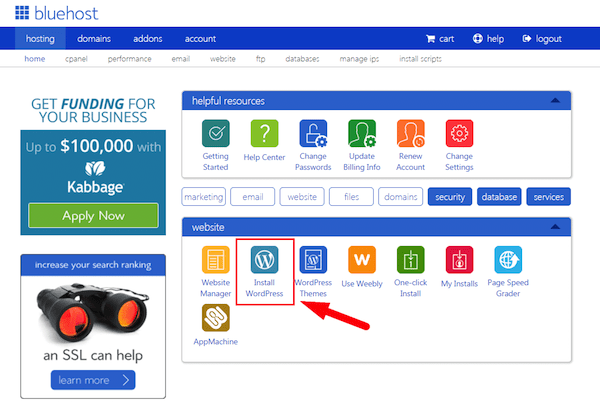 Bluehost Pricing and Plans
---
Before I continue with this Bluehost review, it's important that you understand which hosting service is right for you.
You don't want to spend money on services you won't use, but you also don't want to go through the hassle of migrating and upgrading your service if you find out there's a critical feature (or 10) that your current level of hosting doesn't offer.
SHARED HOSTING (Probably Right for You)
Think of shared hosting like renting out a sweet new pad with a few friends. Except, in this case, you're renting out server space alongside dozens (maybe even hundreds) of strangers on the internet. 👀 👀
But don't let this scare you… In the same way that you likely rented out an apartment with a roommate to help save money, shared hosting allows Bluehost to keep the cost of your hosting incredibly low.
This style of resource sharing is perfect for individuals who are just getting started out in the world of website ownership and is the ideal place to start if you're looking to launch a small business, blog, or eCommerce store.
The downside of this hosting plan is that a traffic spike from ANY of the hosted websites can make it difficult to access the other sites on the server.
Just like you'd have a hard time elbowing your way through the kitchen if your roommate invited over 50 of his best friends, you'll have a hard time accessing your site if any of the other sites on your server experience unexpected jumps in their site traffic.
Bluehost offers these three different plans under the shared hosting umbrella:
Bluehost Monthly Plans (Shared Hosting)
Starter: $7.99
Plus: $10.49 (Starter + unlimited space and bandwidth)
Business Pro: $23.99 (Starter + unlimited space and bandwidth + advanced security features)
We tested all three tiers before writing this review, and they all perform about on par with each other. If you don't expect your website to be placed under any sort of serious strain in the near future, this is definitely the hosting package for you.
VPS HOSTING – not offered by Bluehost
If shared hosting is like renting a place with a few friends, quality VPS hosting is like upgrading to your own apartment.
This style of web hosting, although still located on the same physical server, partitions the server space between customers to ensure that you no longer have to worry about your pesky "roommates" stealing all of your glorious bandwidth.
The prices for this service vary from $30-$120/month depending on the amount of processing speed and storage you need.
If your website is starting to grow and you're writing the occasional viral article (or song), then this will be the service that is right for you.
DEDICATED HOSTING
If you've successfully graduated from the Little Leagues and are now playing in the frigging MLB, then dedicated hosting is what you'll need.
Using a dedicated host is like buying your own house. You will have your own physically separate server that will be used by you and only you.
This is only necessary if you have an extremely high amount of traffic each month (like 100,000+ visitors) or a myriad of features and advanced website wizardry that goes beyond what a VPS service can handle.
Bluehost Monthly Plan for dedicated hosting starts at $149.99/month and is definitely the priciest option on the table… But it's still cheaper than buying a dedicated hosting service through their competitors.
WORDPRESS HOSTING
Alas, Bluehost's reign as the most affordable high quality hosting service has come to an end…
While all of the aforementioned services on the list are, by far, the best bang for your buck, Bluehost has seriously dropped the ball with regards to their WordPress hosting.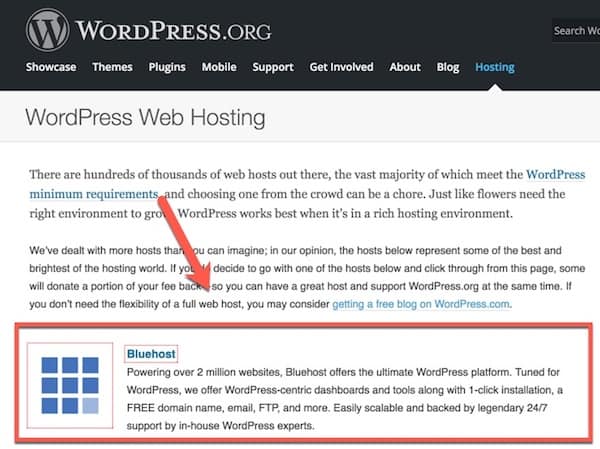 At an egregious $25/month, Bluehost is more than 2x as expensive as their closest competitor, SiteGround (who only charges $10/month for comparable WordPress hosting).
If you only want WordPress hosting, then you'll definitely want to pick a provider other than Bluehost. (We strongly recommend SiteGround.)
BLUEHOST FEATURES & Other Bonuses:
---
eCOMMERCE
eCommerce: Whenever I hear the word 'eCommerce' Bluehost isn't exactly the first company that I would turn to for help.
However, that doesn't mean that they aren't equipped to handle all of your eCommerce needs should you choose to trust them with your patronage.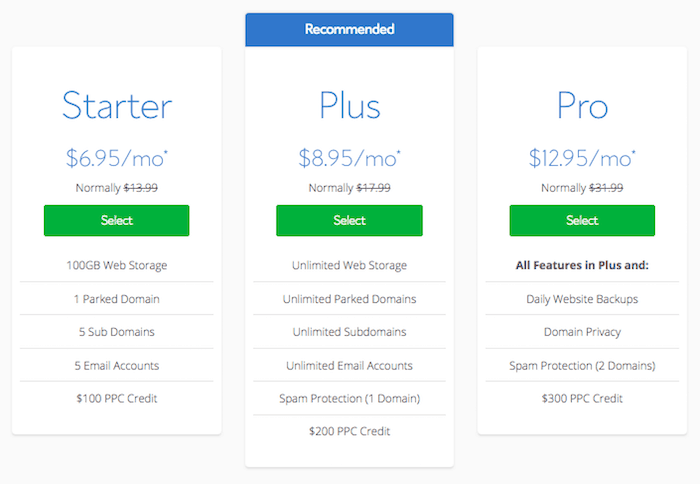 With Bluehost's eCommerce packages, you'll get unlimited bandwidth and a plethora of shopping carts to choose from along with dozens of other features that will streamline your online selling endeavors.
That being said, you can certainly find other companies who can get you up and running much easier than Bluehost (for example… Shopify).
However… Many of the higher tier eCommerce web hosts can run you more than $30/month and, if you're just getting started out, that can feel like a lot.
So if you need a simple and easy to use eCommerce host and site builder then Bluehost is perfect for your needs.
SECURITY
With companies of all sizes suffering from MASSIVE data breaches and hacks of Jurassic proportions (Target and Equifax anyone?), you would be remiss to leave the security of your website up to chance.
Luckily, Bluehost takes security very seriously and offers even their most basic users three layers of spam protection, block IP address features, and one-click CloudFlare integration.
(Note: CloudFlare might seem like a gimmicky marketing bonus… But it's not. It won't do much. But it will make your website much faster and safer by quickly and effectively shutting down any inbound DDoS attacks).
CUSTOMER SERVICE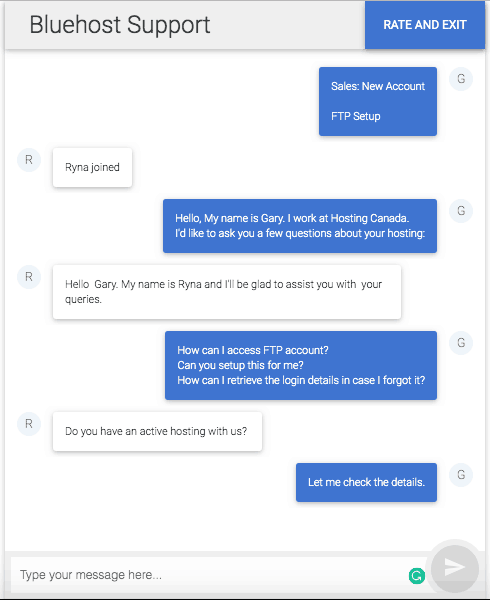 If you've ever purchased web hosting before.
Then you know as well as I do that the website hosting industry holds itself to an absolutely ridiculous standard of customer service…
That is to say that there is NO standard whatsoever for most web hosts.
Although this has been improving in recent years (I guess a few C-level executives finally looked at their company's Twitter accounts).
The vast majority of web hosts on the market drop the ball in the area of customer service and they drop it hard.
So how does Bluehost stack up? Much to my surprise… Really damn well. Bluehost offers fantastic 24/7 live support with call centers located inside of the U.S. and operated by individuals who can actually speak coherent English! (What a novel idea).
More than that, most of the representatives are friendly, polite, and effectual. At one point, the service representative was so sweet that I assumed she HAD to be from Canada and not the U.S. (soorry neighbors 
)
Bluehost Review Summary – Is Bluehost good?
---
All in all, Bluehost is the perfect web hosting service for anyone starting their first website or blog.
They're a great "starter" company for those of you without the budget to invest with a more expensive service like SiteGround and they offer great value for the price you're paying.

Visit Bluehost
---
You'll be hard pressed to find a more beginner friendly, reliable, and effective web host on the market for the price they charge and Bluehost has definitely won our seal of approval. 🏆